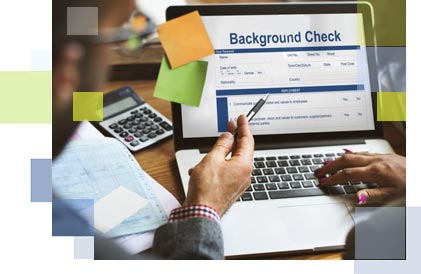 3 in 10 people lie to get a job: Research
In the fast growing and highly competitive Job market the need for quality employee is increasing day by day. With this changed scenario, the fraud risks faced by organizations have increased many folds and there arises the need to manage and mitigate this risk more effectively. It is not possible to make intelligent recruitment decisions without having all the facts in hand.
In today's marketplace, Organizations require greater security while also reducing the burden on HR resources; we strongly believe that there is need to help companies meet this challenge with a variety of solutions that make Background Verification almost effortless.
We have made the pre-employment screening process simpler than ever before. Background checks customized to fulfill your unique requirements. Now you can acquire the best candidates first; and put them to work as an asset for your company faster.
We work with you to design the solution and help you add value to your business propositions. Our solution combines our proprietary data gathering techniques with streamlined verification processes to provide the highest quality data. We deliver actionable intelligence to help you make critical business decisions with confidence and speed.
Why Dream Jobz Background Screening?
1. Complete Background Checks that are fast!
2. Comprehensive - Screening is a comprehensive solution designed for companies that require a full menu of screening options. This total solution includes customized ordering, tracking and reporting that will streamline your entire screening process saving you countless hours. Our team can help you design verification packages tailored to meet your needs.
3. Quality Verification - You can do your job with peace-of-mind knowing that our uses quality data gathering techniques. That means you are getting accurate information about your candidates that helps you take informed employment decisions.
4. Faster Turn Around time - Imagine the time and money you'll save on a daily basis when your entire screening process is reduced down to a few simple steps. And imagine the reduction in your stress level when you have complete confidence in your screening provider who uses nationwide network and efficient process to help you deliver accurate results.
5. CV LIES: Therefore, verification of the following aspect of each applicant's CV is must:
Present / Permanent Address
Endorsement of Village / Area Head
Conduct and Character
Family Background
Educational Credentials
Any Criminal Record (Police /Court Verification)
Any Financial Defaults / Desperations
Any Negative Personal Traits
Any Unfair Union / Association Activities
Any Vice/Addiction to substance
Previous Employment Record
Present Employment Status /Standing
Any other specific inputs sought by the client
We have a solution that's a perfect fit for your business! For more information, contact us –
info@dreamjobz.co.in or call +91-767-766-6404